Invitation to workshop – expedition ARTofMELT 2023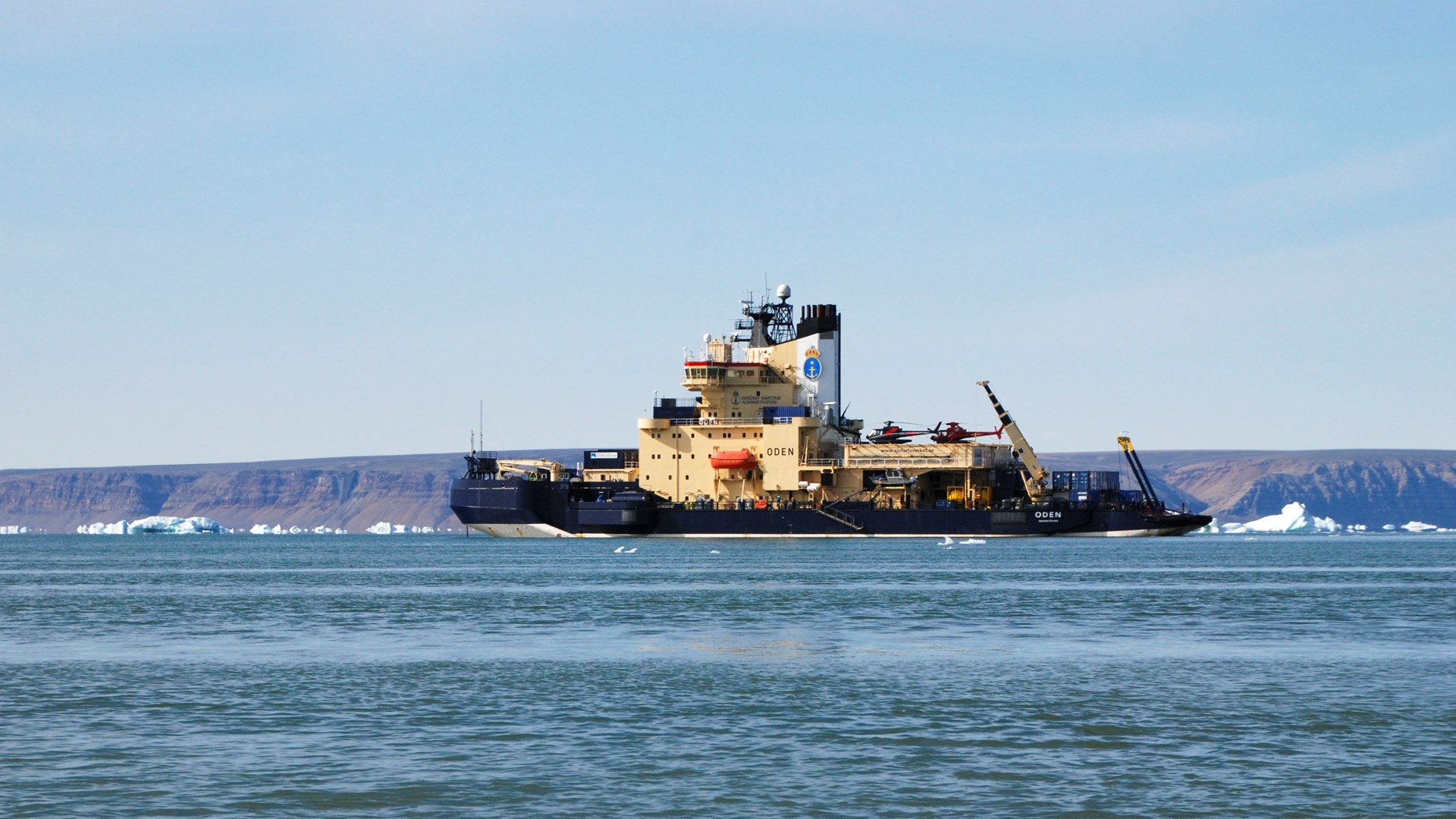 I/B Oden on expedition to North of Greenland. Photo: Ida Kinner
Researchers interested in the ARTofMELT 2023 expedition with the icebreaker Oden have the opportunity to participate in a digital workshop 9–10 November 2021. The expedition is centred on atmospheric rivers (AR's), intrusions of warm air into the Arctic, and their role for the onset of summer sea-ice melt.
The icebreaker Oden will conduct an expedition in the North Atlantic part of the ice-covered Arctic Ocean during the period early/mid-May to mid/late June 2023. The planning is based on using specialized weather forecasts to predict the position for an upcoming AR with a couple of days notice, whereupon IB Oden can go there.
Planning workshop ARTofMELT 2023
When: 9‒10 November 2021, 15.30‒18.30 CET
Where: Online
The workshop is aimed at:
Researchers who are interested in participating on board I / B Oden, or researchers connected to projects on board
Research and logistics financiers
Other stakeholders
All participating projects must be able to adapt to the expedition's basic plan.
The purpose of the workshop is to:
Identify potential contributions and collaborative efforts within the ARTofMELT concept (for a more detailed description, see pdf below). Additionally we want to clarify logistical limitations and already now identify, if possible, logistical challenges and also discuss funding options.
Read more
Invitation – Planning workshop for expedition with I/B Oden 2023 (pdf)
Contact
Anna-Maria Perttu
Senior Research Officer
anna-maria.perttu@polar.se
+46 70 550 99 85
System.Web.HttpException (0x80004005): Error executing child request for handler 'System.Web.Mvc.HttpHandlerUtil+ServerExecuteHttpHandlerAsyncWrapper'. ---> System.InvalidCastException: Invalid cast from 'System.String' to 'Umbraco.Core.Models.PublishedContent.IPublishedContent'.
   at System.Convert.DefaultToType(IConvertible value, Type targetType, IFormatProvider provider)
   at Mirror.Umbraco8.Core.Mapping.ModelMapper.SetModelProperty(IPublishedProperty contentProperty, PropertyInfo property, Object model) in C:\Users\kevin.holmstrom\source\repos\polar\_src\Mirror.Umbraco8.Core\Mapping\ModelMapper.cs:line 377
   at Mirror.Umbraco8.Core.Mapping.ModelMapper.Map(IPublishedContent content, Type type) in C:\Users\kevin.holmstrom\source\repos\polar\_src\Mirror.Umbraco8.Core\Mapping\ModelMapper.cs:line 246
   at Mirror.Umbraco8.Core.Mapping.ModelMapper.Map[T](IPublishedContent content) in C:\Users\kevin.holmstrom\source\repos\polar\_src\Mirror.Umbraco8.Core\Mapping\ModelMapper.cs:line 82
   at Mirror.Umbraco8.Web.Core.Factories.GridEditorViewModelFactory.CreatePageTeasersModel(IPublishedElement model) in C:\Users\kevin.holmstrom\source\repos\polar\_src\Mirror.Umbraco8.Web.Core\Factories\GridEditorViewModelFactory.cs:line 269
   at Mirror.Umbraco8.Web.Core.Controllers.GridEditors.PageTeasersSurfaceController.PageTeasers() in C:\Users\kevin.holmstrom\source\repos\polar\_src\Mirror.Umbraco8.Web.Core\Controllers\GridEditors\PageTeasersSurfaceController.cs:line 18
   at lambda_method(Closure , ControllerBase , Object[] )
   at System.Web.Mvc.ControllerActionInvoker.InvokeActionMethod(ControllerContext controllerContext, ActionDescriptor actionDescriptor, IDictionary`2 parameters)
   at System.Web.Mvc.Async.AsyncControllerActionInvoker.<>c.<BeginInvokeSynchronousActionMethod>b__9_0(IAsyncResult asyncResult, ActionInvocation innerInvokeState)
   at System.Web.Mvc.Async.AsyncResultWrapper.WrappedAsyncResult`2.CallEndDelegate(IAsyncResult asyncResult)
   at System.Web.Mvc.Async.AsyncControllerActionInvoker.EndInvokeActionMethod(IAsyncResult asyncResult)
   at System.Web.Mvc.Async.AsyncControllerActionInvoker.AsyncInvocationWithFilters.<>c__DisplayClass11_0.<InvokeActionMethodFilterAsynchronouslyRecursive>b__0()
   at System.Web.Mvc.Async.AsyncControllerActionInvoker.AsyncInvocationWithFilters.<>c__DisplayClass11_2.<InvokeActionMethodFilterAsynchronouslyRecursive>b__2()
   at System.Web.Mvc.Async.AsyncControllerActionInvoker.AsyncInvocationWithFilters.<>c__DisplayClass11_2.<InvokeActionMethodFilterAsynchronouslyRecursive>b__2()
   at System.Web.Mvc.Async.AsyncControllerActionInvoker.AsyncInvocationWithFilters.<>c__DisplayClass11_2.<InvokeActionMethodFilterAsynchronouslyRecursive>b__2()
   at System.Web.Mvc.Async.AsyncControllerActionInvoker.AsyncInvocationWithFilters.<>c__DisplayClass11_2.<InvokeActionMethodFilterAsynchronouslyRecursive>b__2()
   at System.Web.Mvc.Async.AsyncControllerActionInvoker.EndInvokeActionMethodWithFilters(IAsyncResult asyncResult)
   at System.Web.Mvc.Async.AsyncControllerActionInvoker.<>c__DisplayClass3_6.<BeginInvokeAction>b__4()
   at System.Web.Mvc.Async.AsyncControllerActionInvoker.<>c__DisplayClass3_1.<BeginInvokeAction>b__1(IAsyncResult asyncResult)
   at System.Web.Mvc.Async.AsyncControllerActionInvoker.EndInvokeAction(IAsyncResult asyncResult)
   at System.Web.Mvc.Controller.<>c.<BeginExecuteCore>b__152_1(IAsyncResult asyncResult, ExecuteCoreState innerState)
   at System.Web.Mvc.Async.AsyncResultWrapper.WrappedAsyncVoid`1.CallEndDelegate(IAsyncResult asyncResult)
   at System.Web.Mvc.Controller.EndExecuteCore(IAsyncResult asyncResult)
   at System.Web.Mvc.Async.AsyncResultWrapper.WrappedAsyncVoid`1.CallEndDelegate(IAsyncResult asyncResult)
   at System.Web.Mvc.Controller.EndExecute(IAsyncResult asyncResult)
   at System.Web.Mvc.MvcHandler.<>c.<BeginProcessRequest>b__20_1(IAsyncResult asyncResult, ProcessRequestState innerState)
   at System.Web.Mvc.Async.AsyncResultWrapper.WrappedAsyncVoid`1.CallEndDelegate(IAsyncResult asyncResult)
   at System.Web.Mvc.MvcHandler.EndProcessRequest(IAsyncResult asyncResult)
   at System.Web.Mvc.HttpHandlerUtil.ServerExecuteHttpHandlerWrapper.<>c__DisplayClass5_0.<Wrap>b__0()
   at System.Web.Mvc.HttpHandlerUtil.ServerExecuteHttpHandlerWrapper.Wrap[TResult](Func`1 func)
   at System.Web.HttpServerUtility.ExecuteInternal(IHttpHandler handler, TextWriter writer, Boolean preserveForm, Boolean setPreviousPage, VirtualPath path, VirtualPath filePath, String physPath, Exception error, String queryStringOverride)
   at System.Web.HttpServerUtility.ExecuteInternal(IHttpHandler handler, TextWriter writer, Boolean preserveForm, Boolean setPreviousPage, VirtualPath path, VirtualPath filePath, String physPath, Exception error, String queryStringOverride)
   at System.Web.HttpServerUtility.Execute(IHttpHandler handler, TextWriter writer, Boolean preserveForm, Boolean setPreviousPage)
   at System.Web.HttpServerUtility.Execute(IHttpHandler handler, TextWriter writer, Boolean preserveForm)
   at System.Web.Mvc.Html.ChildActionExtensions.ActionHelper(HtmlHelper htmlHelper, String actionName, String controllerName, RouteValueDictionary routeValues, TextWriter textWriter)
   at System.Web.Mvc.Html.ChildActionExtensions.Action(HtmlHelper htmlHelper, String actionName, String controllerName, RouteValueDictionary routeValues)
   at Mirror.DataTypes.DocTypeGridEditor.Web.Extensions.HtmlHelperExtensions.RenderDocTypeGridEditorItem(HtmlHelper helper, IPublishedElement content, String editorAlias, String viewPath, String previewViewPath, Boolean isPreview)
   at ASP._Page_app_plugins_mdoctypegrideditor_render_DocTypeGridEditor_cshtml.Execute() in D:\Websites\UmbracoSites\polar.se\1.4.1\app_plugins\mdoctypegrideditor\render\DocTypeGridEditor.cshtml:line 28
   at System.Web.WebPages.WebPageBase.ExecutePageHierarchy()
   at System.Web.Mvc.WebViewPage.ExecutePageHierarchy()
   at System.Web.WebPages.WebPageBase.ExecutePageHierarchy(WebPageContext pageContext, TextWriter writer, WebPageRenderingBase startPage)
   at Umbraco.Web.Mvc.ProfilingView.Render(ViewContext viewContext, TextWriter writer) in D:\a\1\s\src\Umbraco.Web\Mvc\ProfilingView.cs:line 25
   at System.Web.Mvc.Html.PartialExtensions.Partial(HtmlHelper htmlHelper, String partialViewName, Object model, ViewDataDictionary viewData)
   at ASP._Page_Views_Partials_grid_editors_Base_cshtml.Execute() in D:\Websites\UmbracoSites\polar.se\1.4.1\Views\Partials\grid\editors\Base.cshtml:line 20