"It is a great environment to learn and gain new perspectives"
Sampling on the ice during the Arctic Ocean Research Cruise 2023 with RV Crown Prince Haakon. Photo: Jessica Cook, Arctic Council Secretariat.
Sonja Gindorf, PhD student at the Department of Environmental Sciences (ACES) at Stockholm University, just finished the Arctic Ocean Research Cruise 2023 with RV Kronpins Haakon. She was one of two Swedish researchers selected through an open call by the Swedish Polar Research Secretariat.
Hi Sonja! Why did you apply for a berth on the Arctic Ocean Research Cruise 2023 with RV Kronprins Haakon?
–  My PhD project is focused on mercury reactivity at the terrestrial and marine environment interface. Last July, I joined an expedition to the Southern Ocean. When I saw the call by the Swedish Polar Research Secretariat to join the Arctic Expedition organised by the Norwegian Polar Institute, I considered this a great chance to link the data I have from the Swedish and Norwegian terrestrial sub-arctic with the water column and sea ice samples from the Southern Ocean expedition. Moreover, during this cruise, I saw the focus on biological parameters as a great opportunity to extend my knowledge and gain skills in a new field.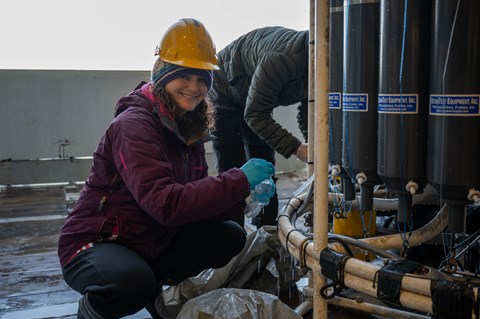 Please tell us more about your research
–  Generally, my research is about how different environmental factors affect the speciation of mercury in the marine environment. The main aim is to better understand and predict the fate of mercury transported from the terrestrial to the marine environment. Now, we have little knowledge about how much of the mercury that enters the ocean is available for biological uptake, and to improve this knowledge, we need to understand the processes on the biogeochemical level better and connect this knowledge to the current state of mercury levels in the environment and biota. This can hopefully help us predict future mercury exposure potentials.
How can the expedition benefit your research?
– This expedition is a great opportunity to extend and connect the research I have carried out before. With the samples collected during this expedition, we can link the mercury concentrations in abiotic compartments (ice, sediment, seawater) to the mercury concentrations in organisms of different trophic levels (phytoplankton, grazers, predators), which allows me to add another dimension to my work.
Can you briefly tell us what you do on board?
– Mercury occurs in different forms in the environment. Onboard, I collected samples from the water column, sea ice, biota, and sediment to study the interactions of these different parts of the mercury cycle in the Arctic Ocean. The methylated form of mercury is a neurotoxin that is known to accumulate and biomagnify in marine food webs, posing a risk to wildlife and humans. As so much biological sampling is going on during this cruise, from phytoplankton over herbivorous zooplankton up to predatory fish, this expedition sets a great framework to study mercury speciation and distribution in this region of the Arctic Ocean and link the roles of different environmental factors to mercury concentrations in plants and animals.
What is it like to be on board RV Kronprins Haakon?
– RV Kronprins Haakon is a great vessel. It is very modern and has almost everything you can wish for. Sampling mercury in seawater is a bit tricky as it is found at trace-level concentrations. I am therefore very happy that I have a lab to myself onboard where I can process my samples in a clean way. The life on board is really nice. We have good food, a lot of veggies, and even fresh salad daily. We have a gym, sauna, table tennis, badminton, massage chair, lots of games and many other nice activities on board. We are a very diverse group of people from all stages of careers, different scientific backgrounds and from different countries around the Arctic. It is a great experience to be part of this group and hear everyone's stories.
What has been most interesting?
– The most interesting aspect is to be in this diverse, multidisciplinary environment and learn from other scientists about their fields, methods, and ideas. It is a great environment to learn and gain new perspectives.
Are you aiming to participate in more expeditions in the future?
– Definitely. I have participated in expeditions in other regions of the Ocean before and I really enjoy working at sea. I am quite sure that this will stay an important part of my career.
Facts about the expedition
Name: Arctic Ocean Research Cruise 2023
Date: August 10-29, 2023
Geographical area: Arctic Ocean, north of Svalbard
Participants: 26, of which 11 international students from or associated with Arctic Countries
Vessel: RV Kronprins Haakon, Norway
Research areas: physical and biological oceanography, sea ice, aquatic ecosystems, microplastics and pollution.
Organiser: Norwegian Polar Institute
Pictures from the Arctic Ocean Research Cruise 2023