Research blog: Johan Casselgren, day 6-13
Day 6
Today we trained to rescue each other from an ice crack. Luckily, the crack was just a slope, but it's always good to practice. We also practised making snow anchors to secure ourselves. In the afternoon arrived more freight. When the plane landed some distance from Wasa, we used the tracked vehicle to pick up the cargo. The picture, however, shows the Finnish tracked vehicle and their car in front of the aircraft.
Day 7
First trip out on the glacier with a snowmobile. The trip's goal was to mount a radar reflector and test the PICO drill. The mounting of the reflector went very well and is now in place. At the same time, we also started digging a test shaft. The snow turned harder than we expected, so the shaft did not become as deep as we thought. We made measurements as deep as we could. The PICO drill worked, but some adjustments need to be made to make it easier to perform the actual drilling.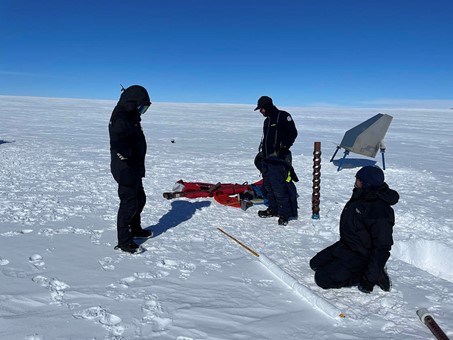 Day 8
Today was also lovely weather. We tested the mounting of the laser sensor that measures different types of snow. The assembly worked well, and we could collect data for later analysis. We also made reference measurements of height differences in the snow to investigate whether the laser sensor could estimate the unevenness. The laser sensor is mounted on the snowmobile sledge in the picture.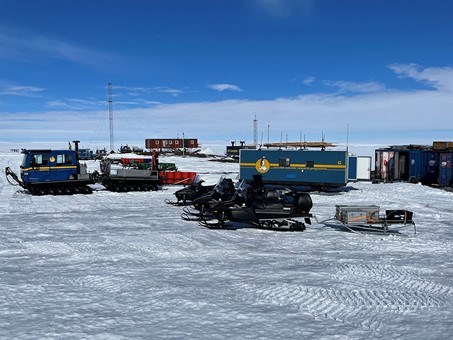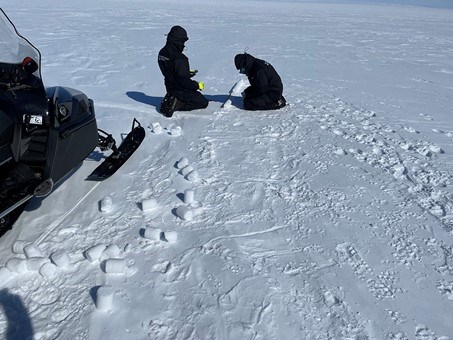 Day 9
In the evening, the wind was calm. Some of us took the opportunity to take a trip up on the mountain behind the station. At the top, there was a great view!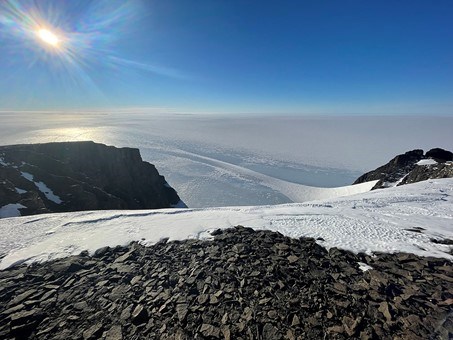 Day 10
The day started with a trip to look for old radar reflectors. After lunch, we mounted the second radar reflector. The mounting went well. At this location, we also used the PICO drill to take up snow samples to document the density of the snow cover. After that, we went another way back to the station and got to experience incredible views of the mountain.

Day 11-13
The storm has arrived, and we will work with analyzing data. At a nearby weather station, wind speeds in the villages were measured at 50 m/s, so walking upright is impossible. These pictures are taken from the same place, but the visibility is almost zero during the storm.