What are High Arctic aerosols and clouds made of?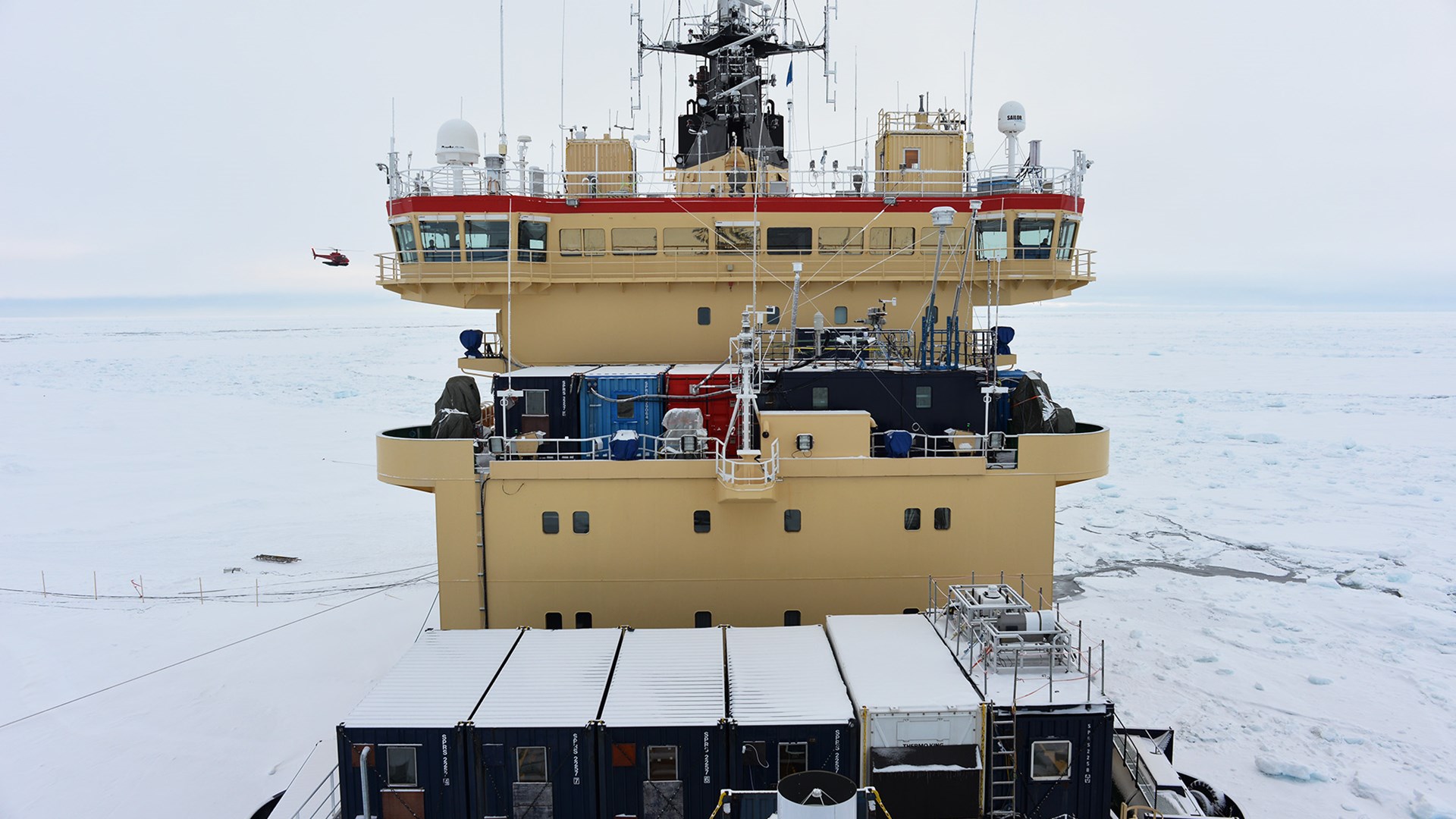 Our main working place on the 4th deck of Oden. The red Swiss lab-container to the left of the aerosol lab where our inlet systems and instrumentation were installed. Photo: Paul Zieger
Arktis genomgår just nu dramatiska förändringar till följd av människans påverkan på klimatet. Vi förstår ännu inte helt de processer som driver på de allt snabbare förändringarna, trots att de påverkar hela det globala klimatet och därmed väder, ekosystem och politik. Moln spelar en stor roll i det arktiska klimatsystemet och är en av de stora osäkerhetsfaktorerna för framtida prognoser. Vad är det som skapar moln och vad består dessa partiklar av? För att bättre förstå hur moln fungerar i ren luft ville vi göra våra mätningar nära Nordpolen, där det sedan tidigare finns väldigt lite data. Vi utförde experimenten i ett strategiskt utvalt tidsfönster då havet fryser för att undersöka hur partiklar i atmosfären förändras när årstiderna växlar.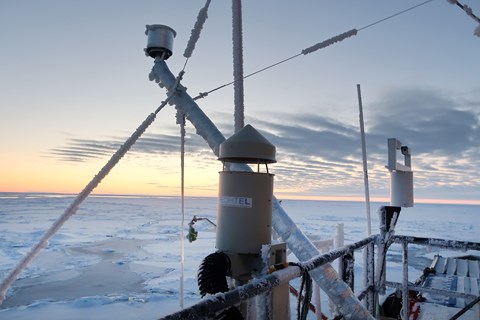 Support
Knut and Alice Wallenberg Foundation, Sweden
Swiss Polar Institute, Switzerland
Bolin Centre for Climate Research, Sweden
Swedish Research Council, Sweden
Environment and Climate Change Canada, Canada
Stockholm University, Sweden
Paul Scherrer Institute, Switzerland
Swiss National Science Foundation
Institute for Tropospheric Research (TROPOS), Germany
University of Lund, Sweden
More information
Inom vårt projekt Aerosol-cloud interaction in the high Arctic installerade vi flera olika system för att ta in luft och undersöka kemin och fysiken hos aerosoler och molndroppar genom flera nya sorters mättekniker. Vi tittade till exempel på storlek, sammansättning och fördelning av partiklar med olika instrument. Dessa parametrar är mycket viktiga för att förstå molnbildning. Exempelvis fann vi att partiklar så små som några tiotals nanometer i diameter kan agera som molndroppskärnor i Arktis, vilket är relativt ovanligt på våra breddgrader. Vi fokuserade också på att undersöka nyligen bildade nanopartiklar. Resultaten blev många gigabyte med information, och att analysera allt kommer att hålla oss sysselsatta flera år framöver.
Paul Zieger
Department of Environmental Science and Analytical Chemistry (ACES), Stockholm University