Field studies on Svalbard help understand the landscape on Mars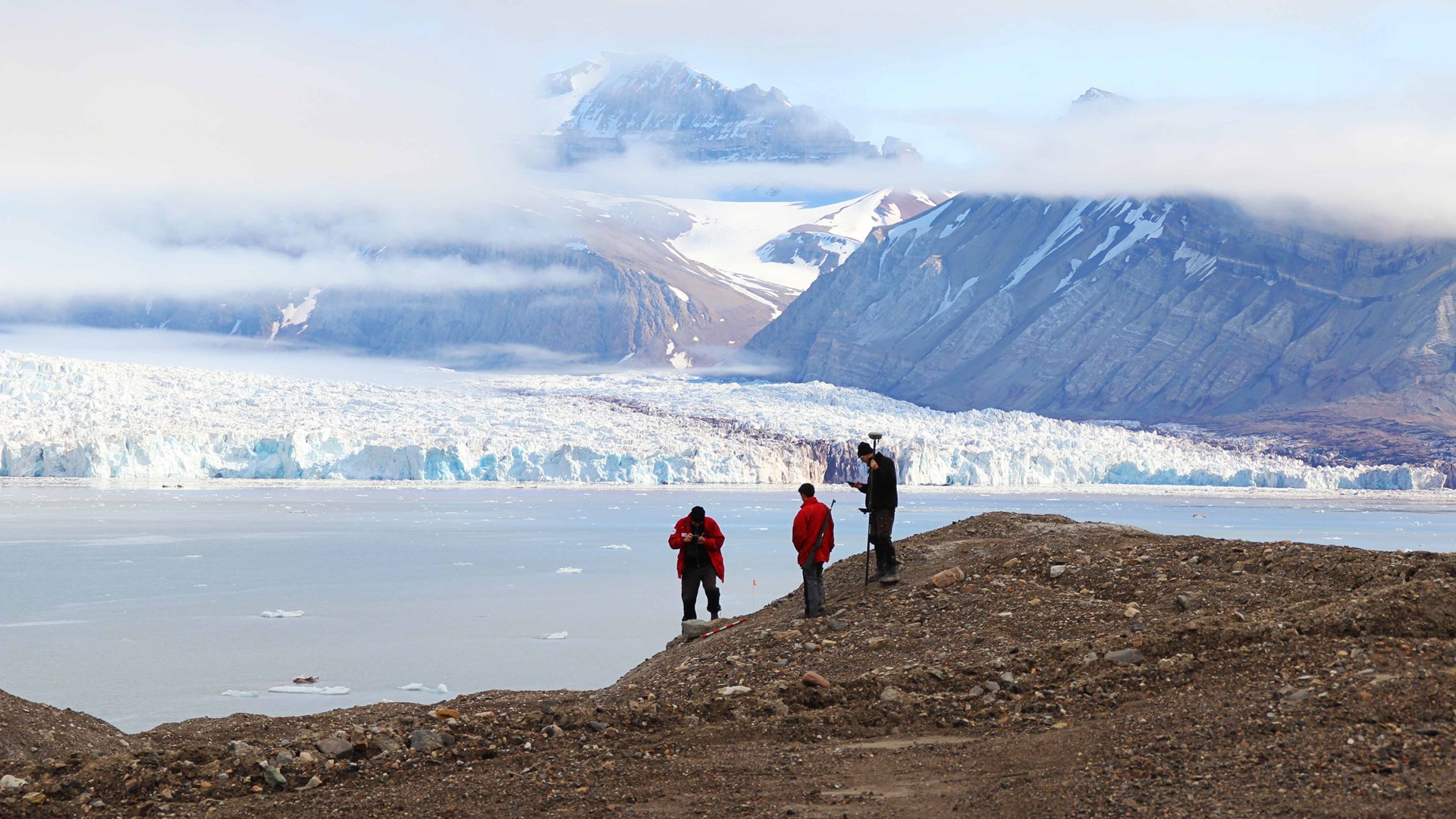 Fieldwork on the moraine with Kronebreen in the background. Photo: Andreas Johnsson
During the summer of 2023, Andreas Johnsson, a geomorphologist at the University of Gothenburg, visited Svalbard. The goal was to study similarities with Mars's landscape and how the island group is affected by global warming. Andreas Johnsson has conducted field studies in the area 13 times, and it is time for new measurements next year.
Hi Andreas! Can you tell us about your research area?
My field is natural geography and, more specifically, geomorphology. It's a complicated word, but basically, it means studying landscapes and how they are shaped by water, wind, ice and more. Landscapes thus contain clues from past climates and conditions. Today, Mars is an Eldorado for geomorphologists as we have very high-resolution images and see many exciting landscapes and landforms.
Why is Svalbard a good place for your fieldwork?
Mars is today a dry permafrost planet. However, we know that the climate varied and we see occurrences of glaciers and landforms that testify that meltwater existed.
Svalbard is also a permafrost area that is largely characterised by glaciers. By studying aerial photographs and satellite images, we can see great similarities between the landscapes of the planets.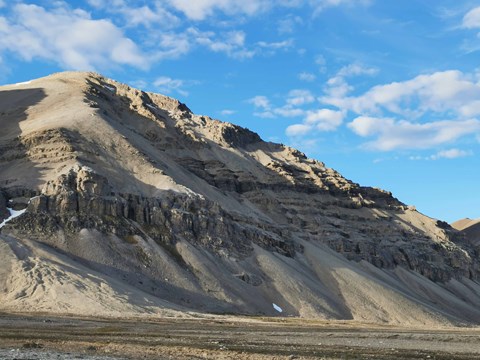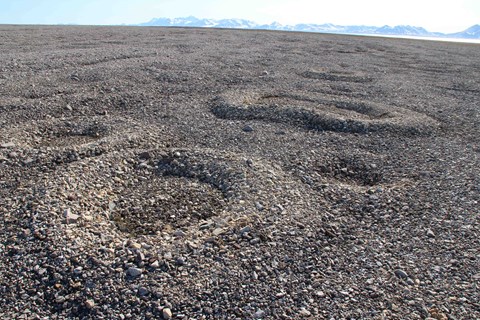 Can you tell us more about the expedition?
I joined the other project members in Longyearbyen on June 24. We then traveled within Svalbard to the more remote research community of Ny-Ålesund, which is located on the Kongsfjorden. Among other things, our instruments and provisions were waiting there.
We visited two sites that we have studied annually since 2011. The first area consists of a landscape formed by the glaciers Kongsvegen and Kronebreen decreasing in size and retreating. It is a large moraine landscape that still contains underlying glacial ice. This ice is melting away and the landscape is changing rapidly. It is these changes that we study.
The second area consists of so-called structural soil that is formed in areas with permafrost and where the upper soil layer thaws during the summer. Through thawing and freezing, fantastic patterns are formed in the landscape. The value of being able to study these two areas is that we see similar structures on the planet Mars. This gives us the opportunity to study these formations in an environment we can visit, and extrapolate these findings to another planet.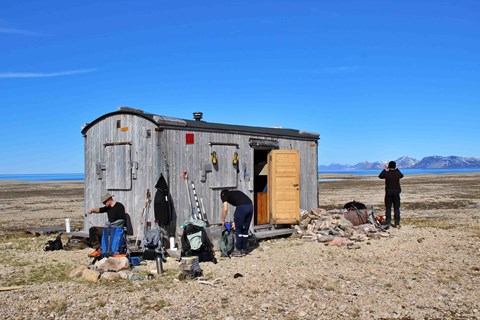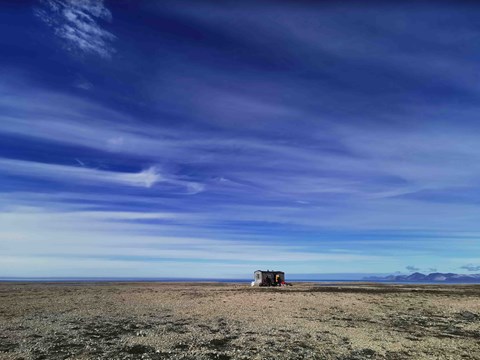 What investigations did you do?
We had a range of instruments for detailed measurement of the structures we are studying. This includes, among other things, a camera attached to a kite, GPS, and ground radar. Precise ground radar allows us to see structures even underground without having to dig. It can be about the depth of underlying permafrost or structures in underlying geology. It can increase understanding of why it looks the way it does on the surface.
Why are you investigating this?
The research has two tracks. The first is that Svalbard helps us understand how the landscape was formed on Mars. In our case, we are studying young geological formations on Mars involving meltwater and ice. This is important for scientists studying the possibilities of life on Mars because water is a prerequisite for life as we know it. Knowing where the ice is will also be important in the near future when we send manned missions to our neighbour. The preserved ice becomes an invaluable resource for these crews.
The second research track is that Svalbard is undergoing major changes due to global warming. Our studies show that rapid changes occur in these permafrost areas regarding glacier melting and mass movements such as landslides.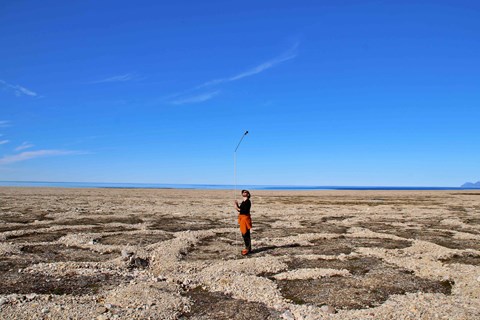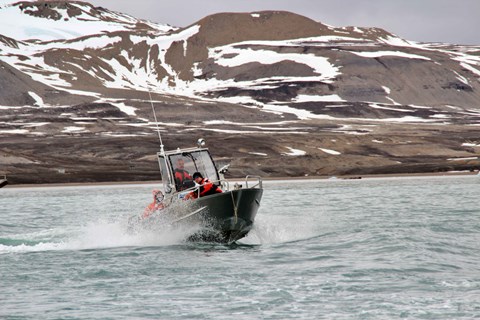 How many times have you been to Svalbard before?
My first visit was back in 2007 when I received a request from Ella Carlsson, who is now the Air Force's space manager within the Swedish Armed Forces and Henrik Johansson, who now works at the Geological Survey of Sweden (SGU). Back then, we were all PhD students interested in planetary research. Svalbard proved to be an excellent comparative environment, and the project now involves researchers from Germany and annual visiting researchers. We have returned almost annually since then; this was my thirteenth trip.
What do you usually look forward to most in connection with the expeditions?
I'm most looking forward to not meeting a polar bear. Now we've done it six times, and it's exciting the first time, but nowadays we like to keep a safe distance. It is a powerful experience to see them in their natural state but a little too exciting to repeat.
Joking aside, Svalbard largely represents untouched wilderness, and a special feeling always comes over there. You feel small before the forces of the elements, and it is incredibly beautiful. Svalbard also has fantastic geology and history, so being out in the field is always exciting. As it is, you find a fossil bone from a marine lizard or fossil leaves when lush forests cover the area.
What is happening within the project now?
Now, we handle the data that was collected during the summer. Among other things, one sub-project is how we can use ground radar to get a better picture of what the permafrost looks like under the structural ground. We are also in the process of completing a new revised geomorphological mapping of Kavdehuksletta. The mapping has been based on collected flight data from 2020.
Our data provides excellent opportunities for students to work with current issues in the Arctic. Two geography students wrote a paper on landslide risks and mitigation in Longyearbyen, which they recently presented at the BeGeos conference in Naples. Another has completed an essay on landslide frequency and geomorphological activity in Hanaskogdalen.
When are you travelling to Svalbard next?
Our project has recently been granted continuation in 2024! This means we can also start from the Ny-Ålesund research community next year. It facilitates our logistics, and we can access cabins in the field.
Before next year's fieldwork, the group is also strengthened with Dr. Michael Zanetti of NASA. Then, among other things, we will test a portable LiDAR system (imaging technology with the help of lasers) that he developed. Through the system, we can trace patterns in the landscape that are difficult to see with the naked eye. In follow-up studies, it give us a powerful tool to see changes in the landscape, even at a detailed level.
We have also been granted a new flight campaign via the Alfred Wegener Institute for 2024. It will increase our temporal resolution even more. It is key to measuring how much and how quickly the landscape is changing over larger areas.