"We will continue training in Antarctica"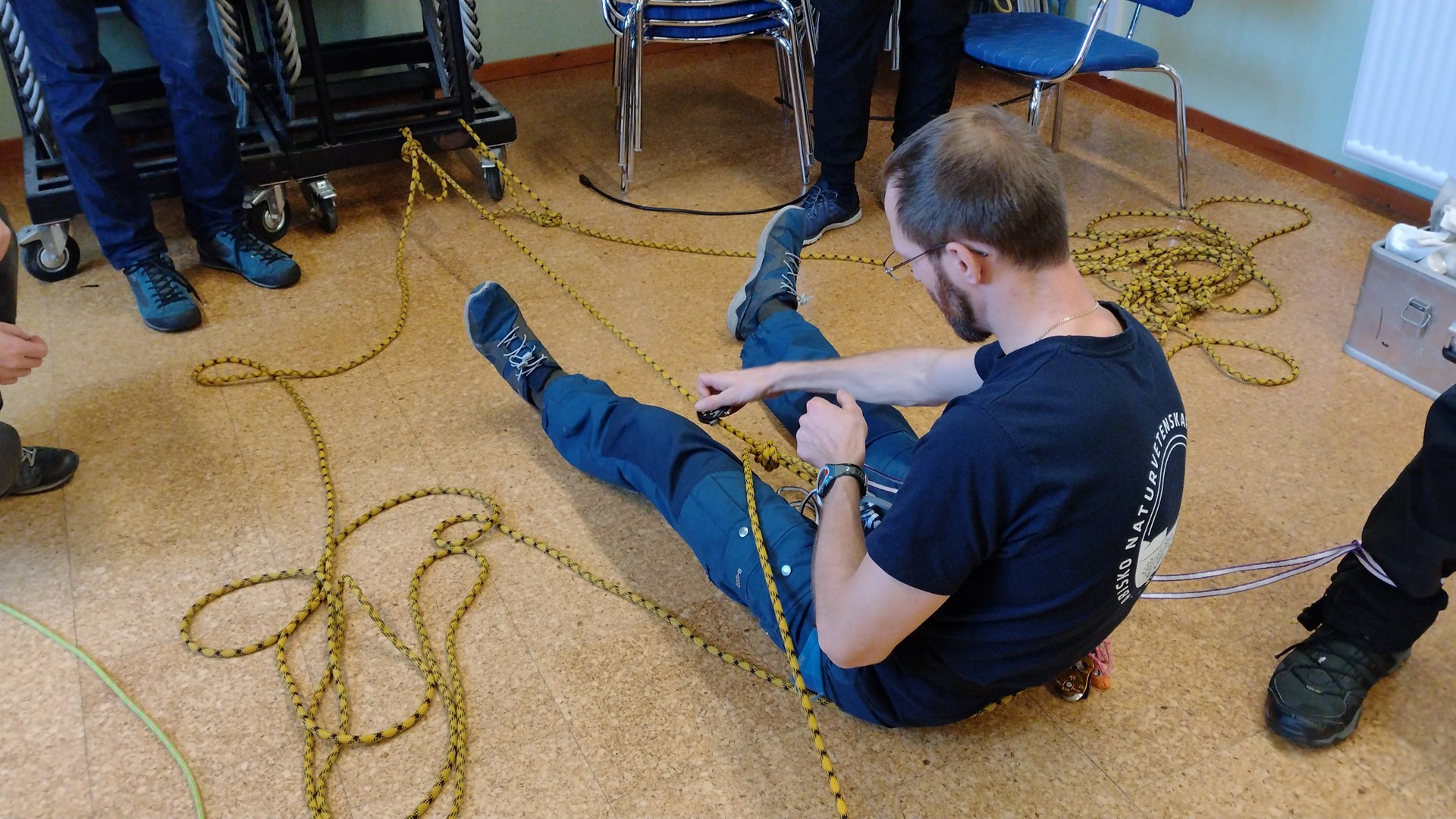 Niklas Rakos at Abisko Scientific Research Station is training to handle ropes. Photo: Ola Eriksson
An extensive field course was recently held at Abisko Scientific Research Station as part of the preparations for the Antarctic expedition DML 2021/22. The five-day field course is mandatory for those participating in the expedition.
– We will continue the training in Antarctica, says Ola Eriksson, responsible for the field course and expedition leader for DML 2021/22, where 13 people participate.
This year's expedition is of the larger kind. The Wasa research station will be fully utilized, two ambitious research projects will participate, and a garage will be built. 
The field course is part of the Swedish Polar Research Secretariat's systematic security work during expeditions. Living and working in Antarctica requires specific knowledge, including how people travel safely on glaciers. Therefore, all participants must practice tying themselves together in ropes to, for example, pass a dangerous area and to be able to lift a colleague out of a glacier crack alone.
– We do not take unnecessary risks, but everyone must be prepared if the accident should occur after all. Everyone should wear a harness on glaciers, even if it counts as a safe place. It's much easier to get a person up then.
During the field course, participants also receive tips about packing. Everyone is advised to bring a medical kit and a compression bandage. It is important to be able to quickly stop a bleeding or manage a sprain for yourself or someone else if the doctor is not present.
– We have trained first aid to stabilise a leg and to move a person to a stretcher.
Living at the Wasa research station
Participants need to be prepared for station life in Antarctica. At Wasa, there is water, electricity, and heating, but the amenities need to be used with care.
– We inform everyone that they must help to save water because we collect it ourselves. It takes about an hour for one person to refill the water. When there are many of us at the station, we have to do it every day. If the weather is bad and everyone stays inside, we must cope with the same water for several days.
During the Antarctic summer season, water is brought from the glacier below the Nunatack where Wasa is located. A dark adjacent cliff heats up the ice and makes the water near the glacier surface.
– We make a hole with an ice drill and leave it. The next day it is filled with water seeping in from the sides. With the help of a hose, the water is pumped into a tank loaded on a tracked vehicle. It holds 1,000 litres. Then we pump the water into a tank at the station. The ice hole is covered so that it does not freeze, and then it can be used again and again. But late in the season, the amount of water decreases. Then we have to melt snow, the same if we arrive early in the season.
Limited communication opportunities
During their stay in Antarctica, the participants have limited contact with the outside world. Data traffic is expensive, as well as to call from the satellite phone. The Swedish Polar Research Secretariat has provided the participants with a communication unit to send text-based messages via satellite. In that way, the research participants can communicate with each other and their relatives.
– Of course, there is also a safety aspect. The communication unit has an emergency transmitter and GPS. With the device, you can send a position to another participant. During the field course, we practised finding different coordinates.