Utlysning: expedition EURASIAN ARCTIC C4 2023
*** På grund av situationen i Ukraina har planeringen av expeditionen EURASIAN ARCTIC C4 2023 med det geografiska område som beskrivs i utlysningen stoppats. Information om eventuella alternativa planer för en IB Oden-expedition för detta tema och tillhörande utlysning kommer senare att meddelas här. ***
The Swedish Polar Research Secretariat opens a call for research projects onboard I/B Oden to the north-eastern Arctic Ocean. The expedition takes place from late July 2023 to September 2023.
Researchers affiliated with a Swedish university or research institute are invited to apply for participation and space on board I/B Oden for research projects. The expedition EURASIAN ARCTIC C4 (Eurasian-Arctic Shelf-Basin Interactions of Climate-Cryosphere-Carbon-Contaminants) aims to study the functioning and response of the Ocean and Cryosphere systems and their linkages to large-scale biogeochemical cycles, inclusive GHGs, under present and historical changes to the climate. The EA-C4 expedition will take place during the period Late July to September 2023.
Geographical focus area and research topic
The EURASIAN-ARCTIC C4 research will build on earlier efforts and expand also in several new geographical areas. The preliminary expedition route is so far planned and divided into two parts that extend to the northeastern part of the Arctic Ocean (figure 1).
Part 1: The Barents-Kara-Laptev Seas slopes and troughs.
The expedition follows the Atlantic Water into the Arctic. The cruise track will criss-cross eastward along the Barents-Kara-Laptev Sea slope systems with a focus to investigate slope methane hydrate systems and the warming Atlantic Water plume. The outer parts of the Kvitöya, Franz Victoria, St Anna and Voronin Troughs will be studied for land-exported organic matter and contaminants, shelf-processed CH4 and ocean acidification. These systems are the receptors of the great rivers Ob and Yenisey that export material from the West Siberian Lowland; the world's largest wetland. Sediment cores will unearth past dynamics of the Atlantic Water Mass, methane, sea ice extent and export of old permafrost carbon.
Part 2: Two Transpolar Drift transects through the high Arctic Ocean sea ice system: lines from the Laptev Sea slope to the North Pole and back to the Kara Sea slope
These two high Arctic transects will enable a diversity of EA-C4 studies. These include the sources, dispersal, fate and effects of matter exported from the Laptev and the Kara Seas in the Transpolar Drift. The program will investigate both Dense Water Cascading and Atlantification and how these affect the stability of the vertical heat exchange towards the sea ice. The transects will also serve multiple studies of the melting sea ice system, such as changes in ice/snow albedo due to light-absorbing impurities (LAI) e.g., black carbon (BC) aerosols, ice-rafted debris (IRD), coloured dissolved organic matter (CDOM), and microbes, possibly including deployment of small research teams on larger ice floes.
Any projects that are consistent with the scope of the theme EURASIAN ARCTIC C4 and this way can contribute to this particular expedition profile are welcome to apply. Such topics can broadly be from e.g., geosciences, biosciences, environmental science, oceanography, biogeochemistry, atmospheric and climate sciences.
Prerequisites for projects onboard I/B Oden
All basic infrastructure onboard I/B Oden is provided and managed by the crew and by the staff of the Swedish Polar Research Secretariat (SPRS), such as i.e., winches, cranes, etc. Some sampling equipment can also be provided by SPRS, for example, CTD, laboratories, water inlet, gas etc. Specific measuring instruments and research equipment are the responsibility of the research projects and the handling onboard will be planned in close collaboration with SPRS. You can find a technical description of I/B Oden here.
Permits and security clearance
Some parts of the tentative expedition study areas are in the Russian Exclusive Economic Zone (EEZ), which requires a Russian scientific permit. The process of applying for the necessary permits will start immediately after the project selection process within this call has been completed (April 2022). In the application for the Russian scientific permits, all research projects need to be described in detail together with complete lists of planned observations, sample collections, methods and research equipment that will be used. This documentation will be composed during April-June 2022 and any principal investigator (PI) applying to this Call for participation in the EA-C4 Oden 2023 expedition must be available and responsive to provide necessary detailed input during this time. In the case that Russian permits are not granted, the expedition will follow an alternative cruise track outside the Russian EEZ.
Everyone that plans to be onboard I/B Oden during this expedition might need to go through a Swedish security clearance.
Project structure and funding
The principal applicant of a Project proposal needs to be affiliated with a Swedish university or research institute. Projects are encouraged to also include collaboration partners who are affiliated with Swedish or international research institutions. The Swedish Polar Research Secretariat does not provide funding for project expenses such as salaries or equipment. Each project group/consortium needs to demonstrate that relevant funding is available for execution of on-board and related follow-up, shore-based work. The demonstration of funding can be completed until 11 December 2022.
Application
Submit the application form to office@polar.se. Please use the registration number Dnr 2022-28 in the subject line. The last day to apply is March 15, 2022. The application form (word file) is available here.
Requested documentation
Name, affiliation and contact details of the lead applicant of the project proposal.
Names (can be tentative, or listed as NN) and affiliations of other Swedish-based or international collaborative project team members.
The number of berths required onboard I/B Oden needed to execute the project. Indicate onboard sampling or observational tasks where the project relies on collaboration with other groups (e.g., CTD/Niskin, sediment sampling) and indicate how this may influence the required number of onboard participants/berths.
A scientific project description, including the aim and objectives that also clarify where and how the onboard work tasks are intended to be performed. Clearly motivate the fit and relationship to the overarching theme of the EA-C4 expedition (appendix 1).
CV and a list of publications for the lead applicant and any deputy/co-lead participant (appendix 2).
Documentation that proves that sufficient and relevant research funding has been granted/is available to the project group. It is understood that this can come from a variety of sources, including external grants from national research agencies in Sweden, the EU or elsewhere, or from secured internal funding of the participant's host organization. Given existing funding cycles, parts of this could be amended until 11 December 2022 (appendix 3).
Assessment and selection
All applications are assessed according to scientific excellence, relevance to the research theme, and feasibility on board I/B Oden.
Contact
If you have any questions, please contact:
Cecilia Lund
Senior Research Officer, Swedish Polar Research Secretariat
cecilia.lund@polar.se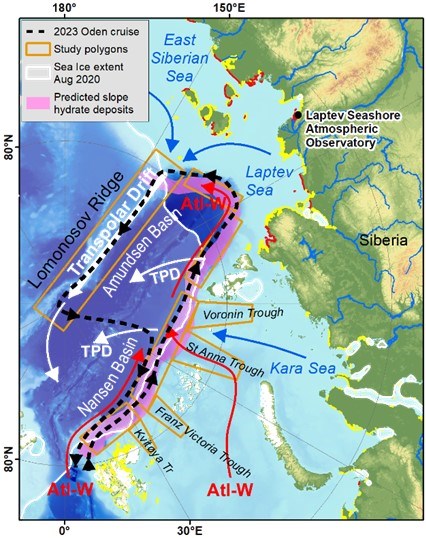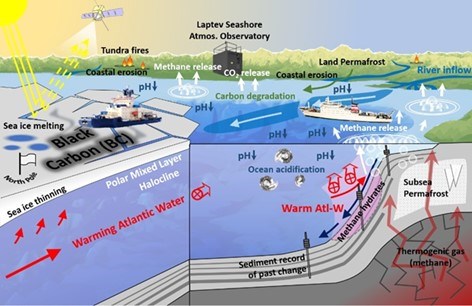 Expeditionen är en central del i ett tema som utvecklas i Polarforskningsprocessen för att uppmuntra samarbete mellan vetenskapliga discipliner och även med policysfären. Eurasian Arctic C4 bygger på resultaten från internationella forskningsexpeditioner och forskningsprogram under det senaste decenniet som International Siberian Shelf Study (ISSS) och den svensk-rysk-amerikanska SWERUS-C3, en forskningsexpedition i Norra ishavet som undersökte sambanden mellan klimat, kryosfär och kol (C3), samt IPCC:s specialrapport Havet och Kryosfären i ett Förändrat Klimat. Temat syftar till att adressera flera stora utmaningar inom klimatförändringar och aktuell forskning i Arktis: funktion, sammanlänkningar och respons från havet, biogeosfären och kryosfärssystemen under nuvarande och historiska klimatförändringar. Förutom expeditionen med IB Oden omfattar temat ett flertal landbaserade komponenter som fjärranalys, atmosfäriska observatorier, databasutveckling, avancerade molekylära/isotopanalyser och olika modelleringsaktiviteter.
Eurasian-Arctic C4 lägger redan från början en stark tonvikt på interaktioner mellan forskare och politiska beslutsfattare med planerade aktivitete såsom en syntesrapport om observationsbaserade tillstånd för Tipping Points i polarhavet (till exempel kollapsande metanhydrater, allvarlig havsförsurning, minskande havsis, utsläpp av metan), policy briefs, informations- och diskussionsmöten samt bidrag till sessioner och utvärderingar som ska ge underlag till policybeslut för en hållbar utveckling.